2017年02月28日
This week You! takes a look at some of the popular wedding trends in bridal wear, hair styles, makeup and jewellery, this season...
Bridal wear:
Gone are the days when bridal outfits looked generic. Today, traditional bridal fashion has come a long way from a simplistic look to the most lush and expensive costumes designed for the special day. With so many options from bespoke designers and ready-to-wear wholesalers, you can be sure your wedding lehenga, saree or dress will match your personality.
Designs are intricate with beading, crystals and thread work with semi-precious gem stones which are hand-crafted. Net based pallus, zari and resham embroidery, shiny sequined borders and paisley design motifs are examples of fine hand-crafted work on wedding apparels.
Related:black bridesmaids dresses
Bridal colour palette:
Women today are not sticking to traditional colours such as deep reds for their bridal attires. New wedding season doesn't include bright colours and glamour, today fashion has brought soft and elegant pastel colours. Wedding colour trends for 2017 will be shades of blue, purple, grey and pink. Popular combinations are burnt orange, peach and plum. It's a whole selection of colours; solid colours such as magenta, purple, brown, mustard and pastels such as violet, blues and greens. Infusions of colours such as cerise and peach are also observed in bridal fashion.
Bridal makeup trend report:
Glowy skin: 2017 bridal makeup looks boast natural, dewy skin. Think: a fresh, effortless, yet polished base, using tinted moisturizers and pin-point concealing, in lieu of heavy, full coverage foundations.
Matte brown shadow: In keeping with the natural theme, consider matte brown for your eye shadow and liner. The combo enhances the eyes without looking too in-your-face. However, stay away from brown mascara. Trust us: It will never compare with the boost your lashes get from a solid black.
Pearlescent highlight: Everyone loved a good highlight in 2016, and the same will be said for 2017. Trend reports are showing a touch of pearlescent sheen on the cheek bones and in the inner corners of the eyes.
Bold brows: It's such a fresh, youthful look, and for those who are used to wearing a strong brow, this is the perfect 2017 bridal trend. It's also a great way to enhance your eyes while adding depth and dimension to your bridal look.
Pink candy: Anyone who suggests that brides can't be utterly au courant when it comes to beauty, needs to think again. Pink eye shadow is sticking around as a trend in a big way, and brides can embrace it right along with the rest of the world. Two big tips: Keep your eye drops handy so there isn't a hint of redness in your actual eyes (no matter how much celebrating you've been doing) and keep the rest of your makeup subtle, so the eyes can really shine.
For your lips, bring out your natural colour with soft pinks and corals that work well with your skin tone.
Hair trends:
Braids: From long, fishtail braids; to dramatic 'braid mazes'; to taut, sleek braided updos, braids are a popular bridal hair trend for 2017.
Undone buns: We love the 2017 bridal hair trend of an undone top knot, with frayed pieces of hair framing the face and softening the look. This hairstyle is particularly charming with a more structured wedding dress.
Whether you want a romantic chignon or plan to wear your hair down, ask your hairstylist to give your hair some extra texture by either teasing or adding in waves before pulling it back. Allowing strands to loosely hang and frame the face will give the look a pretty, effortless vibe.
Jewellery in vogue:
Sapphires: For 2017, sapphires will be seen beyond engagement, becoming the gem of choice for beautiful wedding ceremonies of all styles and themes. While diamonds may be the more traditional choice, sapphires are a unique and often more affordable option.
Rose gold: More brides are choosing to break the tradition and put a unique and personal touch on their day with the delicate addition of rose gold, which is also known as pink or blush gold. It is a gold alloy made from a combination of gold and copper, and is a timeless and elegant choice that first enjoyed the spotlight back in the 1800s. Though undoubtedly seen as a less traditional choice than gold, it has certainly stood the test of time and nowadays is seen as a way of adding a decidedly modern twist to an otherwise classic bridal look.
Chokers: What goes around comes around! As we all know, the '90s are back and chokers have been one of the top trends to come out of this decade. It's no surprise that bridal designers got inspiration from street style and started pairing chokers with wedding dresses this year. These fabulous neck pieces come in all different shapes and sizes. You can find chokers in thick chains, multi-strand styles and mixed metals.
Credits: Text: Sadaf Jabeen Model: Kiran Malik Designer: Farah Talib Aziz Photography: Muzi Sufi Makeup: Anam Falak
Jewellery: Jaipur & Co. Collection: The Eternal Empress Location: Belvedere Estate, London
A blingy affair
So you are all dressed up wearing the perfect outfit and carrying a matching handbag, but wait, you still feel that there is something missing! Yes, you guessed it right, it is jewellery that we are talking about. No outfit is complete without appropriate jewellery to go with it, be it weddings, a party or even a dinner with friends. Wearing jewellery is a must for all affairs as it can do wonders for your outfit. Go ahead and try it out. Add earrings to a casual outfit that you plan to wear to a lunch or to office and notice the change it will
bring to your overall appearance. In fact the impact of jewellery on one's attire is so strong that it can make or break your appearance. Why else do you think brides all over the world have been focusing on the jewellery they wear on the wedding for decades now? Since jewellery itself has become a fashion statement nowadays, we have some great news. Recently, veteran jewellery designer Shafaq Habib showcased her latest collection in an exhibition held in Karachi that was attended by the city's socialites and members of print and social media.
We all know that Shafaq Habib has been creating exquisite pieces of jewellery using 22 carat gold and precious stones since the '80s and has held more than 400 exhibitions in the past 35 years. Not only this, last month, Habib joined hands with Grand Thornton, as a development consultant, in an initiative to facilitate Pakistan Gem and Jewellery Development Corporation (PGJDC).
Her jewellery is a unique fusion of eastern aesthetics with western elements inspired from her travels around the world. At the exhibit Habib showcased her distinct designs, inspired from the unique blend of South Asian aesthetics. Statement pieces had a greater collection of rubies crafted in traditional jhumkas, chandbalas, magars, tikas and jhoomers with a modern twist. Aside from these there were unique pieces set in pearls, polki diamonds and emeralds. The display also included a bridal collection as well and special prices were offered on all the pieces.
Of course, the exhibition is over now, but fret not girls! You can still get your hands on her beautiful creations by visiting her outlet in Lahore or just wait till she holds another exhibition in your town!
Also see: bridesmaid dress melbourne
2017年02月22日
Mandy Moore just had the wedding of her dreams … on-screen.
Anyone who has watched This Is Us has probably fantasized about marrying Milo Ventimiglia (the smokeshow actor behind TV father of the year Jack Pearson). And for Moore playing Ventimiglia's on-screen bride was pretty magical — thanks to the wedding dress she wore.
Moore collaborated with the show's talented costume designer, Hala Bahmet, on finding the perfect bohemian gown for Jack and Rebecca's wedding.
Images: SheinDressAU
"We actually had three vintage dresses to choose from," Moore tells PeopleStyle. "But in the end, I love that we went with the long sleeves and flower crown. The dress was cut so beautifully and had a long train. For a girl who never wanted to get married or have a proper wedding, it kind of had me rethinking some things."
"I was like, 'I know I actually already did this once before but I eloped and I didn't have a wedding dress, so maybe if I do round two one day,'" she explains. "Wearing a wedding dress for that episode kind of shifted my mindset on wearing a proper wedding dress. I was like, 'I kinda feel like I have to do this in real life now.'"
The last time Moore wore a vintage wedding gown was opposite another swoonworthy groom: Shane West in 2002's teen hit, A Walk to Remember.
"I guess I'm a long sleeve wedding dress girl," she shares.
As for Ventimiglia's wedding tuxedo, Moore says her co-star wanted to go even more '70s with his look.
"There's this picture of Milo's dad from his parents' wedding and I think his dad was in a powder blue tuxedo so he was really trying to push for that baby blue," Moore reveals. 'And I think Hala at the end of the day was like 'No, let's keep it a little more traditional."
Bahmet works closely with the writers and actors on This Is Us to curate clothing for the different decades-focused narratives.
"When I met Hala for the first time, I was in my underwear and a bunch of strangers were measuring me for the prosthetic belly for the pilot episode of the show, so it was a slightly awkward way to meet someone for the first time," Moore shares. "But she's been game from minute one and she has such a huge responsibility to cover every different decade in this show from present day all the way back to the '70s and to really tell the story of this family. I would have lost my mind at some point during the season but she's super calm and handles everything with grace and composure. She's always so excited fitting by fitting."
As a way of honoring creators like Bahmet, Moore is hosting the 2017 Costume Designers Guild Awards Tuesday night, her first time taking the reigns at an awards show.
"Costume designers are such an integral part of the process and integral part of our job as actors," she says. "They really put all of the pieces together and I am excited to be in a room to celebrate all of the fantastic work on television and on film this year."
See more at Beach Bridesmaid Dresses
2017年02月18日
By all measures, May Smith was the perfect bridesmaid. She wore a blue bowtie in her hair to match the wedding's denim theme, donated generously to the stag and doe and, when the big day arrived, drank celebratory shots in a party bus with the rest of the wedding party.
But, while other bridesmaids tossed back tequila, Smith opted for ice wine. After all, she is 92 years old.
"Out of everyone in the wedding, she was the best of my bridesmaids," bride Amanda Scott told CTVNews.ca. "She's done it a billion times, maybe that's why."
Images: plus size wedding dress
Picking your grandmother to be a bridesmaid might seem like an unconventional choice. But Scott said she wanted a non-traditional wedding party that reflected the strong bond with the woman she calls "granny."
"She's just kind of a breath of fresh air in my life. She's just my best friend. I tell her everything," Scott explained.
Scott said her grandmother is a remarkable person who leads a surprisingly active lifestyle for someone her age. She swims a mile each week at the local pool, line dances, goes golfing in the summer (without a golf cart, unless it's sweltering) and volunteers for Meals on Wheels.
"She really is just my inspiration. She's one of the best people I've ever met," Scott said. "I want to be just like her."
The decision to make her granny a bridesmaid was an easy one. Scott lives in St. Catharines, Ont. and visits her grandmother in Niagara Falls, Ont. about once a week. The pair talk about life and family and often make dinner together. Despite their strong bond, Scott and Smith aren't biologically related.
"She's not my biological grandmother. She is my step-grandmother. So I don't really believe in the whole (idea of) family is blood," Scott said.
"She's getting to an age where I think, how much longer she might be here? I thought, how special would it be if this could be something she does at this stage. I mean, how many women get to be a bridesmaid at 92?"
About a year before her wedding, Scott decided to pop the question. She told her granny that she wanted someone special to be her bridesmaid, and asked if she'd take the job.
"She cried and said she would love to. And basically, for the whole next year, she told everybody that she came in contact with that she was going to be a bridesmaid in July. She'd say, 'You ever hear of a 92-year-old bridesmaid?'" Scott said.
"Before the wedding she was reminiscing about being a bridesmaid when she was younger. You could tell it was something that was special for her."
When the wedding day arrived, Scott said her grandmother fit right in. She wore cowboy boots, just like the other two bridesmaids, and joined in during a photoshoot by a waterfall in St. Catharines.
"I've never seen her look so beautiful in my life. I couldn't believe how beautiful she looked," Scott said.
She later posted a photo of their shared moment on Reddit, where the post garnered plenty of attention.
Scott said she's thrilled her grandmother got to play such a pivotal role in her special day.
"It was kind of nice to do something that was not just unusual, but special for the two of us," she said.
Also see: bridesmaid dresses online
2017年02月16日
Nowadays, planning a wedding can become a full-time job, and getting every detail right is nearly impossible. It's best to accept the fact that no matter how much planning goes into your wedding day, there will be something that will leave you saying, "I wish I had known that!"
In the hope that we can help other women avoid these pitfalls, we've asked some recent brides, as well as a current bride-to-be, to share some of the lessons they've learned.
Images: bridesmaid dresses online
"I had a really long, lacy veil—which was what I wanted, and I loved it—but I took it off right after the ceremony," says Melissa Johnson, a copy editor who got married in 2015, in East Haddam. "I wish I had kept it on for the outdoor photos taken after the ceremony. I spent more on the veil than on my dress, and I'm only wearing it in a few photos!
"I'm glad I didn't wear it to the reception, though," she adds. "It would have gotten in the way."
Some possible mishaps are hard to anticipate. "My pastor never told my guests to be seated after I walked down the aisle," says Johnson, "so everyone stood for the entire ceremony. It didn't even register until afterward, when my family and friends in the back told me they couldn't see anything!"
Friends and family can be a problem before the ceremony, offering advice whether it is solicited or not. "That has been the most stressful part thus far, not the planning itself," says one bride-to-be who wishes to remain anonymous. "It can be overwhelming to hear everyone's input, and makes you question your choices."
Jen Zalasko-Dlugolenski, a technical services assistant from Meriden who got married in May 2012, agrees that can be a problem. "Make sure you are in charge," she says, "not your bridesmaids."
For those who choose to do it, one of the biggest tasks that come after the big day is the process of changing your last name. "I truly believe the name-change process should be way more romantic than what it is," says Robyn Collins-Wolcott, the publisher of Shore Publishing, who got married this past October in Branford. "The process is made slightly easier with the service I used through Wedding Wire—you buy a package that walks you through what you need and the process for each item you'll have to change."
Collins-Wolcott adds that the worst part for her was getting a new social security card, saying she had to wait for an hour and half at the social security office. Then it took two weeks for the card to arrive in the mail. "I still haven't gone to the DMV," says Collins-Wolcott, "because I assume that'll be worse."
When it comes to sending out thank-you notes for gifts, brides seem to agree that it's best to do it sooner rather than later. "I waited an embarrassingly long time to send my thank-you cards," says Johnson. "My advice to brides is to send those out as soon as things settle down, so it's not weighing on you."
"Despite etiquette saying that you have three months to send them," says Collins-Wolcott, "I had some relatives wondering where they were."
Nonetheless, Collins-Wolcott says that putting this task off ended up working out well for her. After seeing her wedding photos, she decided to include ones of her guests in their thank-you cards. "Friends have already thanked me for doing it," she says. "I hadn't planned on doing that, but when I saw the photos, I knew I had to, so I was glad I had prolonged sending the notes out."
One bride says she learned the value of keeping it simple. Karren Muolo, a graphic designer who works in Madison, got married at New Haven City Hall in February 2015 surrounded by 14 family members and friends after a two-month engagement. "When I look back on my wedding day, there is not a single thing I regret or wish I could've done better," she says. "That day, honestly, couldn't have been any more perfect. I wish I could relive that day just as it was."
Also see: http://www.sheindressau.com/short-wedding-dresses
2017年02月14日
Kardashompson may soon be a real, legal thing.
According to a couple new tabloid reports, Khloe Kardashian officially changed her last name a few days ago with one goal in mind and one goal online:
To get married again!
Images: bridesmaid dress sydney
But Khloe didn't axe her ex-husband's last name from her full name until last week, after which Khloe's family threw her a mini party... with a cake and everything!
This may not have made any headlines or come across like a huge deal, if not for the fact that Khloe is in a serious relationship with Tristan Thompson.
Now that she's divorced and isn't associated with Odom in any way, shape or form, it's only natural for many to wonder:
Might a Khloe and Tristan engagement soon be on the way?
"[Khloe would] be happy about an engagement," an insider tells Us Weekly, explaining why she's so satisfied with her current boyfriend;
"Tristan is unbelievably good to her. Khloé didn't think she was ever going to have [that connection] again after Lamar."
How loved one feel if Khloe walked down the aisle with the Cleveland Cavaliers power forward?
"The family loves Tristan and wants to see this work," adds this same magazine source.
During an interview with Extra last month. Kardashian was asked whether Thompson might be The One and answered as follows:
"I am in love with him. I think he's, like, the best. So, I think so. Only time will tell….I think that's why we are in relationships - to find the one."
Khloe, of course, has quite a history of dating men who make a living on the hardwood.
She was involved with James Harden after breaking things off with Odom. And now it's on to a key member of the defending NBA champions.
Another recent report alleged that not only might Khloe and Thompson get married, but they might do so on television.
And then Kardashian might get pregnant!
"Khloe's in the process of freezing her eggs," a source recently claimed to Radar Online, hinting that Khloe is open to In Vitro Fertilization.
Why would she not have children the more natural way? She might.
But Thompson is only 25 years old and his ex-girlfriend gave birth in December to his first child.
"She's playing it safe and putting her eggs away for safekeeping until Tristan is ready to put his partying behind him and become a dad [again]," Radar added in its article on the topic.
The real question here is simply whether this couple is truly in it for the long haul.
Will Kardashian and Thompson get married? Or will the latter soon be grouped with the many athletes listed above?
See more at bridesmaids dresses brisbane
2017年02月10日
Calling all blushing brides and handsome husbands-to-be: we want to see pictures of your special day. For inspiration, check out our eighth gallery of beautiful photographs.
Thank you so much to all the couples and photographers who contributed their stories and photos, which also appear in print in The Chronicle.
Images: princess wedding dresses
Have you married in the last six months or are you planning to get married this year? We would love to see your pictures! Send in photographs and details of your big day and you could be featured in the Chronicle and in our online gallery.
If you would like to share your special day just fill out the form below the gallery and upload your favourite photographs. It is essential that you ask for permission if they were taken by a professional photographer, who will be clearly credited, along with their company name or contact number.
Naturally we need a picture of the happy couple, but you might also like to include a photograph of the bridesmaids, ushers or other guests. If you married in the last few months then do send your photos in of your special day.
And if you are planning a wedding, then remember to send in after your big day. Professional photographers can ask clients if they would like to take part. Please note that only a few weddings are featured in print each week, so it can sometimes take a while to appear on our Monday weddings page.
Also see: sexy wedding dresses
2017年02月08日
With Valentine's Day just a week away, love is in the air. It's a popular time to get engaged and, if you haven't already, you'll soon discover how expensive weddings can be. News 8 is helping you stretch your dollar with a look at what costs the most and where you can save.
If you're planning a wedding, chances are you could be looking at a price tag upwards of $30,000 to $35,000. If you're not looking to shell out that kind of cash, there are ways to trim costs although the first step is to take a close look at where all the money is going.
Related: wedding dresses australia
Forget about the bride and groom. These days it's all about the guests. At least according to a survey from The Knot, a wedding planning service. Last year the average wedding had 141 guests. That's fewer attendees than seven years ago but couples spent way more.
On average $245 per guest last year, up from $194 in 2009. In the same time frame, spending on entertainment has more than tripled. You can thank things like photo-booths, fireworks and cigar bars.
Also, many couples have wedding bands and DJs to keep the party going. All those extras plus flowers, the dress and the big spender the venue push the budget.
The Knot says the average cost of a wedding climbed to more than $35,000 last year. That's a record high.
Flowers come with a big price tag. Choose flowers in-season at the time of the wedding. Buy just enough for the ceremony and re-purpose those into reception decor.
Many people use invitation stationery that's lined with a statement color. Most people just the envelope out so save about a dollar per invitation and just get simple stationary.
If you haven't bought a dress yet, research upcoming trunk shows. You can sometimes pay $150 to $500 less for a gown at an organized event.
Most couples surveyed say they went over budget. While it's a traditional aspect of a wedding not all parents can afford to pick up the entire tab like they used to.
See more at wedding dresses online
2017年02月04日
"I went back [to New York] six weeks before the wedding with Buddy. We had a secret trip that no one knew about," Jesinta Franklin says of the logistics in opting for a custom Vera Wang wedding dress, chatting ahead of the David Jones autumn/winter '17 launch.
"We turned off our social media and no one knew we were there!"
"We went for five days and I had my fitting on the last day we were there and flew home."
Does that mean Buddy Franklin saw the dress before the big day? Not a chance. "He sat in a café!" Franklin reassured us. "For two hours while I was upstairs having my fitting!"
Franklin said she still feels blessed that she was able to wear custom Vera Wang. "I was really, really lucky with my dress. It was a gift from Vera Wang."
Having been personally offered the option to be dressed by the American designer herself, a dream for most brides, it was just a matter of choosing which dress to wear down the aisle.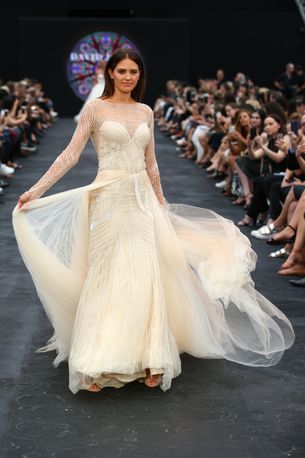 Images: bridesmaid dresses cheap
"I just said to Vera, 'just do what you do!' I don't mind. I don't mind doing something like a little bit different."
Something a little different was, in fact, the end result – the long-sleeved ball gown-style dress is not something you see on every bride.
"I think it just made such a statement," Franklin said. "They were really long and the atelier was like, 'Would you like them chopped?' But Vera was like, 'If you could wear them long, that would be amazing!'"
Franklin said she didn't necessarily envision herself wearing a long-sleeved gown, urging brides to try on something outside the realm of their normal sartorial go-tos. "I think when it comes to your wedding day, you have to wear something that you feel really amazing in."
"You've got to put it on and there's a moment and you just know it's the dress. It doesn't matter if it's not the dress that you thought you would wear."
In total, Franklin only had two fittings, which is not very many for a bride-to-be. We polled Vogue editors who have tied the knot and none of them had any less than six fittings.
"[I first went to New York for a fitting] this time last year at fashion week," she explains, with the fittings taking place alongside Wang herself. "I had all my fittings with Vera and so it was very special."
"Then they were flown over, the dresses," Franklin wore two dresses, changing into another custom Vera Wang dress for the reception. This time, a long sleeve ivory gown made with French Chantilly lace appliqué.
Franklin said her best advice for finding 'the one' is to look out for 'the moment.'
"You've got to have that moment in it. No matter how many dresses you've tried on wait until you've had that moment, and then that's the dress.
Also see: Beach Bridesmaid Dresses - sheindressau.com