2016年05月17日
They met a long time ago. (Two years ago.)
In a galaxy, far, far away. (On Facebook.)
They wanted a wedding that was out of this world, and they got it Sunday at the Motor City Comic Con 2016.
The bride, Olivia Vance, dressed as Padme Amidala, the mother of Luke Skywalker and Princess Leia. She married David Waite, who was a convincing Anakin Skywalker.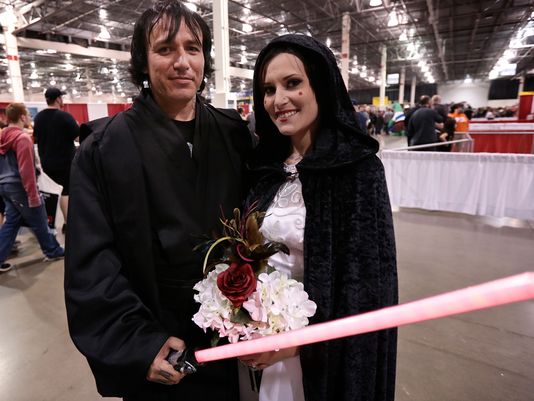 Images: Yellow Bridesmaid Dresses
The happy and self-described nerdy couple, exchanged wedding vows at the Suburban Collection Showplace in Novi, Mich., in front of hundreds of like-minded Star Wars fans, many of them in costume, for the weekend comic book and pop culture convention that drew more than 50,000 visitors.
"It all just tied together, our nerdness and our love of Star Wars," Waite said, of the marriage.
The couple communicated online for more than 18 months, trading Star Wars trivia and other references. In January, Waite traveled from his Michigan home in Upper Peninsula to meet his online love, Vance, who lives in White Lake Township, Mich.
"I almost slammed the door in his face because it was so weird," Vance said. But they quickly realized they were destined to be together.
Waite, 39, was born in 1977 when the first Star Wars movie was released. His parents took him along when he was still an infant.
"They took me to the drive-in because they didn't have a car seat" for the movie theater, Waite said. "I've loved Star Wars ever since."
Vance, 26, came to the series later, but with just as much passion.
"My dad took me to see the remastered versions in the 1990s and I loved it," she said.
Waite said he's seen the movies countless times and friends know of his love for the series.
"I'm the one they call when they are doing trivia at a bar and need an answer," he said.
Their wedding party included family members but they also crowd-sourced others from the costumed visitors to the convention.
"You can't have a Star Wars wedding without Wookiees," said Christopher Clark, of Dayton, Ohio, who came up for the weekend to attend the event. Clark, an Obi-Wan Kenobi look-alike, donned almost $2,000 worth of costume, including a custom-modified light saber worth more than $700.
One of the Wookiees, Bret Fisher of Cleveland, looked the part.
"I'm 6'8 out of costume and 7'2 in costume," Fisher said.
Both men love Star Wars and belong to a charity group that does re-enactments and hospital visits to ill children.
Others around the wedding party dressed as Stormtroopers. Rebel Legion members and other characters from the movies gathered around the couple as Waite's boyhood friend, John Paul Lufkins, read from a mobile phone as he presided over the ceremony. Shula's Bakery in Brimley, Mich, where Waite lives, donated a custom wedding cake made to look like R2-D2 and other Star Wars characters.
Related: SheinDressAU
2016年05月10日
Let's face it — people are probably going to have more to say about the bride's outfit than about the Bridegrooms. But that does not mean you should not take this probability to look your overall best. After all, it is your marriage too! And excellent groom's fashion begins withWedding Fashion Wear. Before you start shopping, though, you need to figure out the procedure of your marriage.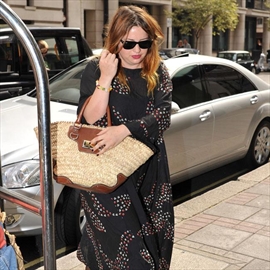 There are a lot of bridegroom designs out there! Is it going to be a super-formal black-tie event? Or a more relaxed celebration in a lawn or by the beach? For an official marriage, your best bet is a traditional marriage. If you are present at three to four official activities a year, you might consider purchasing an IndoWesternSuit, but many grooms choose to lease for this function. If your marriage is more informal, though, you might be more relaxed in a Designer Suit, or even khakis and button-down outfits. Even if you go the Designer Sherwani, there are still a lot of options to customize your look.
Related: mermaid wedding dresses
Designer Suit:
While the main marriage outfits concentrate will be on the new bride, the bridegroom will also need to put a bit of thought into what he is going to put on. Wedding Suits for the bridegroom can be hired or bought, and if you are purchasing they can be made just for the bridegroom, bought off the rack from a designer, or simply grabbed in a men's outfits' store.
A Designer Suit will cost less than a designed fit, but it will still be quite expensive, especially if you are purchasing for the marriage ceremony. The bridegroom should be cautious with the cut and design of a designer fit to make sure it doesn't become old too quickly.
Designer Sherwani
Designer Sherwani looks very lovely and eye-catching which is available in types of designs like zardozi, kundan, embroideries, pearl jewellery, precious metal line, cutdana, elements, pellets and rocks, series and more. The information has lot to do with the experience of the outfits. Sherwani comes in various information as well such as artificial crepe, genuine chiffon, artificial chiffon, genuine soft silk, tussar soft silk, genuine crepe, georgette, pure cotton, jute, brasso, pasmina, lycra, viscose, net and many more.
Indo Western Suit
The designer Suits are the perfect combination of European lifestyle and Indian customs. It symbolizes the wealth and vibrant lifestyle of the country and getting identification on worldwide slam. It becomes a matter of social reputation and innovative way of living. Every bridegroom love to look intelligent and eye-catching on the big day of his life. The vintage men are testing with new designs, fusions and shades such as brownish, bravo, off white, lemon, greyish, natural, lotion, mustard, mauve etc. Mostly readymade Indo Western Suitsare recommended by the grooms, though there is a fantastic requirement of unstitched Suit materials. These can be padded in different designs and Styles.
For Indian men, outfits today have become mostly European. This is mostly applied in urban centres, where western wear is the prevalent design for both official and informal activities. The only time when conventional Indian men's wearer makes an overall look at full power is at excellent activities like marriages, celebrations or activities where ethnic wear is the norm. In Indian marriages, you can find and appreciate both traditional and contemporary Indian men's wear. Indian wedding fashion wear are not just conventional, but also decorative in their overall look and experience, mixing large designs and wonderful stitched designs with excellent materials and magnificent silhouettes.
Also see: wedding dress styles