2016年01月27日
Weddings are often a balancing act: enough decorum to be parent pleasing, but enough fun to keep your wild college roommate entertained until the wee hours. For those who want both the romance and the rage-fest, it's all about being strategic with the agenda. Engage in the classic photo-op moments at the reception and cap things off with a serious after-party. At this point, these late-night fetes have moved out of "wedding trend" territory and become a part of the standard itinerary, just like the cocktail hour or the first dance. But according to event planner David Stark, not all after-parties are created equal. "The after-party is definitely about falling down the rabbit hole," says Stark. "The energy should feel like a nightclub atmosphere. It's about revving up instead of coming down in a chill-out lounge."
The first rule of crafting the right vibe? Create an element of surprise with a great reveal: "Unveil a fabulous nightclub setup. It will excite everyone and give them a blast of new energy," says Stark. "You can also introduce new drinks and food throughout the night or change up the entertainment—if you had a full band during the wedding proper, have a great DJ host the after-party—to add another dimension to the overall experience." And keep in mind that not all of your guests will make the move to the after-party. "It will be a smaller group of true die-hard partiers, so scale it accordingly," says Stark. "The dance floor should be intimate." What are the other key elements of an after-party? Stark shares the four trends that he thinks will be staples of 2016 and beyond.
Images: SheinDressAU
Go Global
Global themes can provide fantastical settings. Hold your after-party in an exotic Moroccan tent, or set it in a chic, Monaco-inspired, sexy boîte. We are also seeing a lot of after-party environments that have a thematic nod to where the couple is heading on their honeymoon. For instance, we recently had a pair that was going to the Greek Islands, so the after-party was inspired by the gorgeous Santorini.
Get Into Character
There's a great interest in costumes today. Perhaps this trend spreads from the props that have become part of the popular photo booths, but full costume "bars," where guests can don everything from wigs and masks to full outfits, make for fabulous fun and incredible photos on the dance floor. At this point in the night, inhibitions are at their lowest and even the most reserved will get into the act.
For the Bar, Think Custom
I've been seeing a lot of artisanal cocktails and customized bars. The mixologist is the rock star of the moment when it comes to wedding after-parties, concocting libations from natural and artisanal ingredients that include small-batch spirits, unique reductions, syrups, and blends made from scratch.
Breakfast for Dinner
Food trucks still remain quite popular, but they're not always practical. Breakfast foods are definitely hot right now, and caterers are either setting up buffets or passing small bites. However, mini burgers, fries, and pizza never go out of style.
More info: http://www.sheindressaustralia.com/bridesmaid-dresses
2016年01月20日
The recent release of Dolce & Gabbana's clothing line featuring abayas and hijabs for Middle Eastern women has received notable admiration from the general public --praising the company for its inclusion of modest Middle Eastern culture and for its "enchanting visual story about the grace and beauty of the marvelous women of Arabia."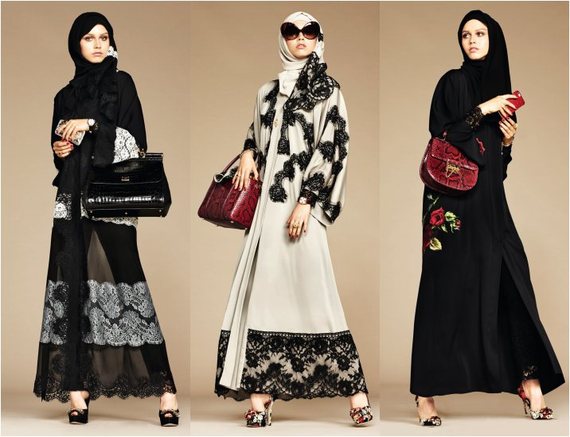 Let's start off by mentioning that inclusion is greatly commendable especially when taking into account the recent backlash against Middle Easterners and Muslims due to the growing global unrest. However, what the media and the company fail to mention is the persecution that regularly follows Muslim women who choose to dress in such a modest fashion -- a fashion that was significantly less popular before the release of Dolce and Gabbana's clothing line.
See more: plus size wedding dresses australia
These are women who walk city and suburban streets with their children and are called terrorists. Women who go to job interviews and are rejected for unknown reasons. Women who walk to school and have their hijab pulled off by an unknown passerby. Women who are pushed onto subway tracks. Women who struggle to do basic tasks every day in a society that continues to reject them because of media bias and political statements.
These struggles will not be addressed and will soon be long forgotten as more clothing lines like this are released, simply for the sake of fashion. However, this is the situation for all cases of cultural appropriation where the better aspects of a culture are taken, and the less favorable traits are disregarded. In the case of Muslim attire, designer companies incorporate length to their skirts and dresses, but use sheer fabric and have high slits to modernize the style. Although the goal is to appreciate Middle Eastern and Islamic culture, this overlooks the main reasons behind why Muslim women dress the way they do.
And what these designers and the general public do not understand is that this "fashion" has been around for thousands of years. For these women, modesty is not the next trend, it is a choice and at times, a difficulty. However, they do it for the sake of pleasing God, and in the hopes that they will be praised and rewarded for this choice, especially in a time where they look so different from those around them.
It is easy to be influenced by popular opinion and the media and it is essential that we all be careful in forming opinions from the current trends, and simply by "what's in." It is wrong to say that the media does not acknowledge the dress of Muslim women, but in a matter of seconds, such clothing can go from being seen as a sign of oppression to fashion. The struggle of blending in and belonging in society is a hardship that Muslim women deal with every day, and it is wrong minimize such difficulties because a few highly-acclaimed clothing companies have decided this is a style/group of people they could profit from.
Also see: short wedding dresses online
2016年01月15日
They may have been shy when they first met, but this fun-loving Waikato couple certainly knew how to break the ice for guests on their big day. A water bomb fight, games on the beach, and fish and chips... this is definitely one of the most fun weddings we've ever seen.
But we'll let Hayleigh fill you in on all the details...
How did you meet? Through a hungover gaze while an All Blacks game was playing. We met on mutual friend's farm where we were lightheartedly encouraged to interact, both slightly shy. Our first date was in Raglan, where we had lunch and a walk along the beach. We haven't looked back.
Tell us about the proposal: It took place on Mount Pirongia. We drove up and Christopher made me get out of the car. He then got down on one knee and said the kindest of words. I couldn't believe the ring, and said yes - a million times yes. I was so overwhelmed with emotions that I was crying in the car on the drive back to Hamilton. On the way home we stopped into his sister's place, where she had champagne waiting.
Images: White Bridesmaid Dresses
Location of wedding: Pukehina Beach, Western Bay of Plenty.
Describe your wedding day: We had a sweet and simple ceremony on the beach, during which our seven combined sisters read quotes from Roald Dahl books throughout.
We didn't have an official wedding party, but my sisters all wore the same colour dress so they looked like they were my bridesmaids in photos. This was a deliberate move on their parts so they could claim later they were bridesmaids!
During the ceremony we played a little joke on the guests. We hid our wedding bands so all our guests had to search and look under the chair they were sitting on. Whoever found it had to bring it to us up the front - it created lots of giggles.
Chris is a huge fan of Fletch, Vaughan and Megan from ZM, so I messaged them prior to the wedding. They sent us the most amazing, thoughtful and funny hand-crafted wedding card. When I gave it to Chris he was so overwhelmed.
After the ceremony, we had played heaps of games. The bride's side took on the groom's side in a challenge to erect two identical tents without instructions, there was a game of bat down on the beach, and also a massive water bomb fight.
We had the fish and chip shop cater our wedding - it was a bargain with amazing service to boot. They wrapped 60 individual packs of fish or hotdog and chips in paper that was covered with photos and stories of Chris and I. It gave the guests some light reading material during dinner.
We also had Mack the dog on hand and wearing a bottle opener - you just had to call him and he would come so you could open your beer.
We hired three baches, sleeping all 60 guests, so instead of a "seating plan" we had a "sleeping plan". We ended the night with sparklers, and gave our guests 60 pieces of pounamu, which was such a lovely touch.
The dress: I was visiting my aunt Katie, who works as a marriage celebrant, on the West Coast. She had asked me to come to a rehearsal with her to help with the music. When we arrived the bride was about five foot tall, big chested and round (similar to myself), and I asked my aunt to take a photo of the gown she wore as I struggled to find pictures of plus-size brides in wedding dresses.
When I saw the sneaky photo I thought it looked amazing. My aunty emailed her to see if she would sell it, and, after some reluctance, she replied that I could have it for $100. My aunty posted it to me in the Waikato, I tried it on… and it fit perfectly.
The flowers: They were by Love Vintage. They were absolutely amazing, so affordable, and just what I wanted.
Highlight of the wedding: My husband, of course - just seeing him, holding his hand, feeling the love. Another highlight was the five minutes we put aside to take it all in. My work colleague had got married three weeks prior to us, and her advice was to consciously stop, look around, and appreciate the day, the people, and the decorations. I'll never forget that.
Was there any drama? Honestly, I had absolutely nothing to complain about, no regrets, no drama. It was everything I wanted, a relaxed, happy day and everybody seemed to be enjoying themselves.
However the next day I slipped on a deck and fractured my back. I had to be taken to a local medical centre where I was given morphine. As Chris was driving us on the two-hour journey back home, I spewed on myself in the car. I managed to spew again into a plastic bag... but it turned out there was a hole in the bag
When we finally got back to the mighty Waikato, I projectile vomited on the deck. Chris had to undress me, put me to bed, and start hosing down the deck and car. Day one and I cashed in my "in sickness and in health" vow.
The honeymoon: Chris is from the UK so we will head over to see his parents -who came to New Zealand for the big day - in 12 months or so.
Your photographer and favourite photo? Our photographer was Kaitlin Foote, she is a dear friend who has a heart of gold. She made our wedding cake, took our photos, and her fiance let us borrow a $135,000 Audi for the wedding. Our favourite photo? Usually it wouldn't be one of myself, but I love the look on my face walking down the aisle to my husband and on my dad's arm. I was so happy.
Also see: Grey Bridesmaid Dresses
2016年01月12日
Thomas Mauskopf hates seeing website listings for knock-off, replication gowns mimicking designs from his third-generation dressmaking company.
Not only does he fear the dresses will be of poor quality when received by brides, but he also thinks the women need to touch and feel the dresses in a retail store such as J&B Bridals in Chambersburg.
"The lace wedding dress (represents) the emotional, religious, the sacrament of marriage. This whole experience you can't get on the Internet," Mauskopf said Sunday at J&B Bridals' annual bridal show.
Mauskopf, vice president of Mori Lee Inc., watched as its company showed off some of its spring 2016 collection by designer Madeline Gardner.
J&B Bridals, which held its show at Wilson College, has the largest bridal collection from Mori Lee in the Northeast.
"Madeline's designs are just wonderful," said Jim Resh, proprietor of J&B Bridals. "She seems to have her finger on the pulse of what brides want."
Gardner currently is featuring what she calls "fresh and soft" gowns with billowy layers of organza and tulle. Many are built around sheer panels, and colors such as ivory, blush and champagne are prominent.
Kate Wine of Chambersburg purchased a fit-and-flare strapless wedding dress from J&B Bridals for her June wedding to fiance Kelly Davenport. Wine and her mother visited the dozens of vendors at Sunday's show, paying particular attention to the cake designers.
"I'm glad I have the main vendors set up," Wine said, noting she is fairly confident in her planning.
Tasmyn McDonald of Chambersburg stopped by the bridal show with her mother to get ideas for McDonald's July wedding to her high school sweetheart, Kenneth Sands.
"I still have a lot to do," she said.
2016年01月08日
Witney Carson got married over the weekend! The Dancing with the Stars pro star got married to 23-year-old Carson McAllister on New Year's Day. Taking to Instagram, the 22-year-old star posted a photo of her and her high school sweetheart in full wedding glam. In addition to the photo, Carson wrote "Yesterday was absolutely magical. Seriously the best two days of my life! The celebration was so much fun, and I couldn't have asked for better!" as a caption on her post.
Credit: plus size bridesmaid dresses
As sources share details of the wedding, the happy couple said their "I dos" in front of over 100 guests that comprised of their family, friends, and colleagues. Among the guests that were part of the couple's big day include Carson's fellow DWTS pro stars Emma Slater, Jenna Johnson, and Brittany Cherry; the ladies also stood by the bride as they were her bridesmaids at her wedding. In the meantime, Lindsay Arnold was chosen to be the Maid of Honor at the wedding; since Carson was also the MoH at Arnold's wedding. Carson's former dance partners Alfonso Ribeiro, Chris Soules, and Carlos Penavega were also part of the wedding. Ribeiro's son was chosen as the ring bearer of the event.
Carson wore a custom-designed gown by Rivini, which came with long lace sleeves. Both the religious ceremony and dinner reception was held at Noah's Event Venue in their hometown South Jordan, Utah.
In an interview last month, Carson detailed how she pictured her wedding to look like. Considering it was winter season, Carson shares that there elements of winter wonderland will be present in their engagement shoot. But as for the wedding, they wanted the event to be "rustic, woodsy and romantic."
The couple got engaged last October 2015 after being a couple for four years. Carson also took to Instagram to announce the engagement and share it to her fans. The couple started dating during their last year of high school.
See more at blue bridesmaid dresses - sheindressau.com
2016年01月05日
In many ways, DeEtta's Bakery is "a good old fashioned bakery," according to Kevin Tyschper, who runs and owns the Naperville bakery with his wife, Morgan Tyschper. "Everything is made from scratch. No mixes, no preservatives and real butter."
Kevin left a career in management and Morgan left a career as a pediatric dietitian to pursue their passion for baking. The bakery opened in 2014 is named in memory of Morgan's mother, DeEtta, who passed along her love of baking to her daughter. Although their methods may be traditional, the couple updates their products to meet customer demands, especially when it comes to wedding cakes.
Source: vintage bridesmaid dresses
Gone are the days when wedding cakes were strictly multiple round tiers of white cake with white frosting topped with a pristine bride and groom. "Couples come to us today with all kinds of ideas. It is the age of Pinterest and Food Network where they see so many different things. Our job is to combine all of the things they like into a cake," said Kevin.
The Tyschpers usually invite the bride and groom to come to the bakery for a "deconstructed tasting" where they can taste cubes of two different flavors of cake coated with different combinations of frostings and fillings. "White cake is actually the least chosen flavor today," said Kevin. "We have many requests for chocolate cake."
Couples can try the cake squares with a variety of fillings like chocolate mousse or Bavarian cream paired with different types of frosting, including the popular butter cream. "We can do anything the bride and groom want. We are finding that most of them want a sort of shabby chic look rather than the traditional cascading flowers," said Morgan.
"White frosting is still popular but most couples want texture instead of the ultra smooth frosting," Morgan said. "The three most popular textures are a spackle finish, horizontal lines and rosettes."
Tiers are still popular, but round is not the only shape requested. There are some requests for square tiers and others want a mix of square and round. Some couples ask for metallic highlights in silver or gold on their cakes.
"These usually have to be hand painted or piped on," Morgan said.
"When couples ask for color on the cake, we suggest adding color with real flowers because the colors of real flowers pop more than adding frosting flowers. The cake becomes more like a canvas to showcase the colors of the real flowers," said Kevin.
The Tyschpers recognize the tradition of saving the top wedding cake tier in the freezer to eat on the first wedding anniversary but offer an alternative to their brides and grooms. "We make couples a complimentary top tier on their first anniversary instead so they can have a freshly made cake that tastes good instead of one that has been in the freezer for a year," said Kevin.
Another relatively new trend in weddings is a groom's cake that reflects the personality of the groom. DeEtta's baking team has fashioned a cake that looked like a wedge of cheese for a Packer's fan, a duck cake for a hunter and one shaped like Lego bricks for a groom who loved the plastic bricks. Sweet tables filled with numerous desserts have also become a frequently requested item.
The bakery supplies favors for guests also. "We did a wedding where each guest got a doughnut and a Sunday paper to take home as a favor," Kevin said.
Today's brides and grooms are not tied to traditions and often make unusual requests. Kevin and Morgan supplied pies instead of a cake for a wedding and get requests for cheesecake wedding cakes.
Although the bakery has only been opened two years, the Tyschpers have been baking for many of their customers for about seven years.
"There are some families that we have done their engagement cake, a bridal shower cake, a wedding cake, a baby shower cake and then their kid's birthday cakes. It has been fun to be a part of all those celebrations," said Kevin. The Tyschpers will be part of the annual Bridal Showcase at Naper Settlement on Jan. 8 and 9 and are ready to fill requests of new brides and grooms.
Kevin, 44, and Morgan, 43, enjoy being a local bakery "where we know the names of our customers," said Morgan. They have a display of vintage rolling pins on one wall of the store that Morgan put together.
"A rolling pin is a symbol of homemade goodness," said Morgan. Some rolling pins on the display are worn from use.
"If that board could speak and tell us about all the things those rolling pins have made, it would be amazing," Morgan said. The Naperville couple are wearing down their own rolling pins making delicious fresh baked goods for the bakery and look forward to many years of baking.
They share a favorite recipe for a delicious winter breakfast treat for others to try for a taste of "homemade goodness." Challah, a rich bread similar to brioche, is used in the recipe and can be purchased at DeEtta's bakery as well as many ethnic grocery stores.
See more at plus size bridesmaid dresses